Treat your kitchen this Christmas
It's turning cold outside, so stay warm and enjoy a hot drink during this festive period made with total convenience and ease in the workplace, or at home. Treat yourself this Christmas to a boiling hot tap! You will be surprised at its many uses and the latest kitchen must-have
In these tough times we could all do with some positivity and upgrading your kitchen space will deliver a number of benefits when we could do with some seasonal cheer regardless of tier.
One tap does it all giving you regular hot and cold, as well as boiling and filtered chilled and sparkling if you wish. We supply all the leading brands on our KettleTap site to suit home and corporate needs at differing price points and in a variety of finishes and colour ways
Tap brand choice
From the popular Quooker hot taps in the home to the Zip HydroTaps in the business world we also supply Cosmetal, Heatrae Sadia, Marco, InSinkErator, Billi, Vivreau, Hotspot Titanium, and our own Intrix KettleTap brand - so the widest choice for firms of all sizes.
Talk taps with our team for the best advice and offers on 0800 731 1491.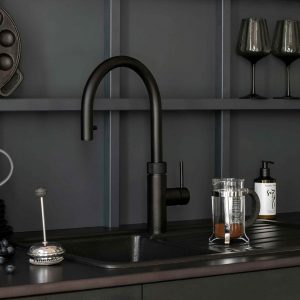 Boiling tap benefits
With a user-adjustable temperature set just below boiling point for the perfect brew, a boiling tap makes fast and easy work of the tea round! No waiting for the kettle to boil, wasting water, and constantly refilling it, so delivering a huge saving on the mains water bill. Just heat what you need and use for all your drinking needs, continuously; and it's so fast, which is why staff productivity is optimised in the office and you have more time at home, too.
Hot taps are great and have so many uses in the kitchen, as well making hot drinks, your team can tackle breakfast porridge pots and lunchtime instant snack pots, pasta, noodles, or couscous, in seconds! The big plus at this time of year is soaking all those nasty roasting tins, cooking pots and pans after Christmas dinner so you can spend more time with your family, which will be more precious than ever this year!
By moving from the old-fashioned kettle to hot tap, look at the ROI. A home and business can save time, money and energy resources by providing instant boiling water for the family and workforce.

Refill revolution
Environmental benefits include refill. Fill your favourite e-coffee cup or reusable water bottle, such as the Chilly's bottles and SHO brands, and save buying throwaways or single-use plastic bottles that pollute the planet. Choose to reuse.
While the British weather is turning a bit chilly, you can be assured your drinks are hot each and every time!